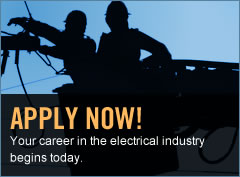 Member Access
for Apprentice/Students, Instructors, Subcommittee and Board Members

What is an Apprentice?
Apprentices play a vital role building and maintaining electrical power systems and traffic signals. The apprenticeship programs at Missouri Valley Line Constructors combine supervised, structured on-the-job training with related classroom instruction to prepare you for skilled employment in the following careers:
Lineman
Traffic Signal Technician
Substation Technician
Cable Splicer
Because you are working and learning at the same time, apprentices are considered full-time employees. Wages are paid to you during the on-the-job phase of training. Wages increase as progress is made in the program.
A Department of Labor registered apprenticeship requires a signed, written agreement (indenture) between the program and apprentice. You agree to perform the work faithfully with diligence and to complete the related course study. A contractor agrees to make every effort to keep you employed and to comply with the standards established for the program. This legal contract ensures quality training on-the-job, in the classroom, and leads to a certificate of completion and journeyman lineman status.
The credentials you will earn as part of your Missouri Valley Line Constructors Apprenticeship Training Program have explicit meaning, recognition and respect in the eyes of federal and state governments and the outside electrical industry.